Get Free Bitrad Coins and listen to Free Music… Here's how!
What is Bitrad?
Bitrad is a brand new token connected up to a free online radio streaming service giving you more than 30,000 radio channels to choose from, ensuring that you can always find something that suits your taste, regardless of what mood you are in or what your general music preferences are. Personally I am already hooked on their metal and hot charts (yer I have a wide music taste!).
So you are telling me I get money for listening to music?
Let me explain this a bit better. As you listen you receive coins/tokens (small difference on the two but it is minor so do not worry), these coins are known as Bitrad and their current value is $0.14 per coin/token (according to Coinmarketcap). You can convert these coins you earn directly into cash using the online exchange site https://cryptodao.com/site/index/BRO – they are a cryptocurrency, and as with any cryptocurrency their value is not set in stone, but can increase over time. Hence your free coins could be worth much more in the future.
How do you say I get started earning free Bitrad coins by listening to free music?
It is super simple and it really only takes a few minutes of your time – which you can substitute with your facebook scrolling 😉
Just follow the steps outlined here below and you are ready to start listening to kick-ass music and earn some free money in the process!
Tutorial for earning free Bitrad coins by listening to free music
Create your Bitrad account here: http://bitrad.io/?ref=28470
Once you are done, you will need a Wallet to send your earnings to. This is a safeplace for where to store your Bitrad coins that you earn. Select the download link below depending on your operating system (whether you have Windows or Mac):

Open the wallet that you downloaded.
Go to "Receive" tab.
Right click the long code you see and copy it. This will be the wallet address where your earnings will be sent to.
Insert your wallet address where it says "Payout-Address" and save. Now you are good to go!
Now just go and find some kick-ass music, with whatever genre you feel like, by clicking on the burger menu in the top right corner of the site again and then selecting "Chart".
This is how the BitRad Wallet looks like. See the "Receive" button on the left? Click that to find your wallet address 🙂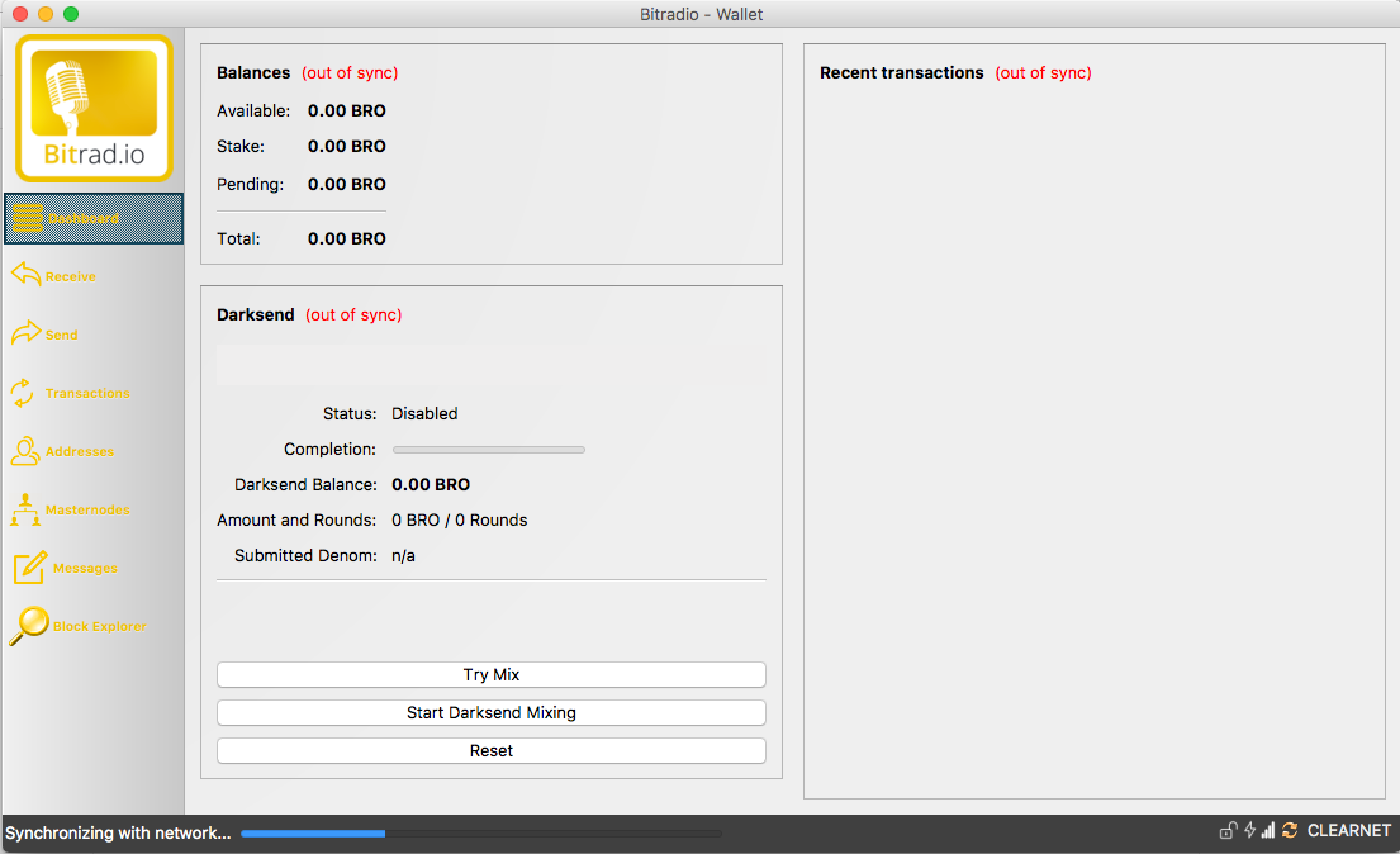 The cool part is that we all listen to music anyways, so why not get some coins out of it? You can even leave it on as you go to work, thereby always earning you something, completely free!
If you love listening to radio, then why not earn some cash in the process?
Sign-up to Bitrad for free today from here: http://bitrad.io/?ref=28470
Donate <3
Bitcoin Address:
17wHt1Jg2ZQ2EtfawrFtQgqq5TAYTzU8M6
Ethereum Address:
0xE76959889F2086e1Ad835F2e8C2bF8A12176beaa
Litecoin Address:
Lef3z5yDjfsbRHBkagRt8gamUk5aEywpdB
Denarius Address:
D5VuKAcPAFB8X3muxxxfZiubxD1TvxvpBx
Siacoin Address:
b0c20e62a112e6f1f999abf1b2f55cf29ef4890e9abc9cdc4c0e6efea2d772560269994025be
Dash Address:
XtjADDwCQLV3bqM9DjQ5GAVnFrvDEdCG9A
PPC Address:
PSwD1bYSVpPBXkGbZstexyPcwKziG51uux