What is Bitrad and how can I get Bitrad coins?
What is Bitrad?
Bitradio is a free online music streaming service, where you can earn Bitrad coins by listening to your favourite music or forming a Masternode. Bitradio offers more than 30,000 free radio channels to choose from, ensuring that you can always find something that suits your taste, regardless of what mood you are in or what your music preference is. Besides the obvious, then Bitrad focuses on transaction speeds as their primary differentiator. Bitrads cannot be mined in the classical sense, as it is pure PoS, but you can earn coins by
Keeping your wallet open (PoS) or
By listening to the radio or
Earning coins on people you have referred to the service and lastly but not least;
By staking 2500 coins in a Masternode.
How can I get Bitrad Coins?
As Bitrad is purely PoS (Proof-of-Stake), there are three ways to get Bitrads coin:
Listen to any of the 30,000 free radio channels (more on this later) and be rewarded as you listen in Bitrad Tokens/Coins.
Trade them on exchange site(s); this is currently the best place to trade here.
Get a masternode and earn coins.
So you are telling me I get money for listening to music?
As you listen to Bitradio, you receive coins, these coins are known as Bitrad. The current value of each Bitrad is $0.12 (Coinmarketcap). You can convert these coins you earn directly into cash using the online exchange site listed here – they are a cryptocurrency, and as with any cryptocurrency their value is not set in stone, but can increase over time. Hence your free coins could be worth much more in the future.
Where can I buy Bitrad coins?
You can currently a number of sites where you can trade (buy/sell) Bitrads, but I only ever recommend Cryptopia which you can find here – their liquidity and volume is by far the best of the available exchange sites.
What is a Masternode precious?
Excuse my Lord of the Rings reference, but I am a huge fan. A masternode for Bitrad takes 2500 coins, and may very well be the cheapest on the market at the moment. A masternode currently only costs you $300 (at $0.12 evaluation per Bitrad). In short, the masternodes essentially work to ensure that new coins are created, so that the maximum supply level will one day be reached. (I will provide an article at a later date on how to create a masternode for Bitrad, so follow me on Twitter to get instant updates as new articles come out.
How much do I earn as a Masternode holder?
Masternodes get a share of the coins "mined" per block. The payout is 0.5 per block and that is released every 120 seconds (2 minutes). Currently there are 48 masternode holders. So that gives this calculation: 30 coins released per hour = 720 released per day – shared between all Masternode holders.
What is the Maximum Bitrad Coin Supply?
10 million. With an additional 1.3 million generated per year, given out to people streaming live music from any of their 30,000 channels. Masternode holders will of course also benefit. While this may be seen as a weakness for many, that the coin supply will change over time, do bear ind mind it will take a further 9 years to match the supply level of Bitcoin, so 21 million Bitrads will not be reached before 9 years from now. Therefore it really is not anything that should weaken the coin in the short term at all – not even in the medium to the long term.
How do I get started earning free Bitrad coins by listening to free music?
Click here to read my article on how to receive free Bitrad coins just by listening to your favourite music.
This is how the BitRad Wallet looks like.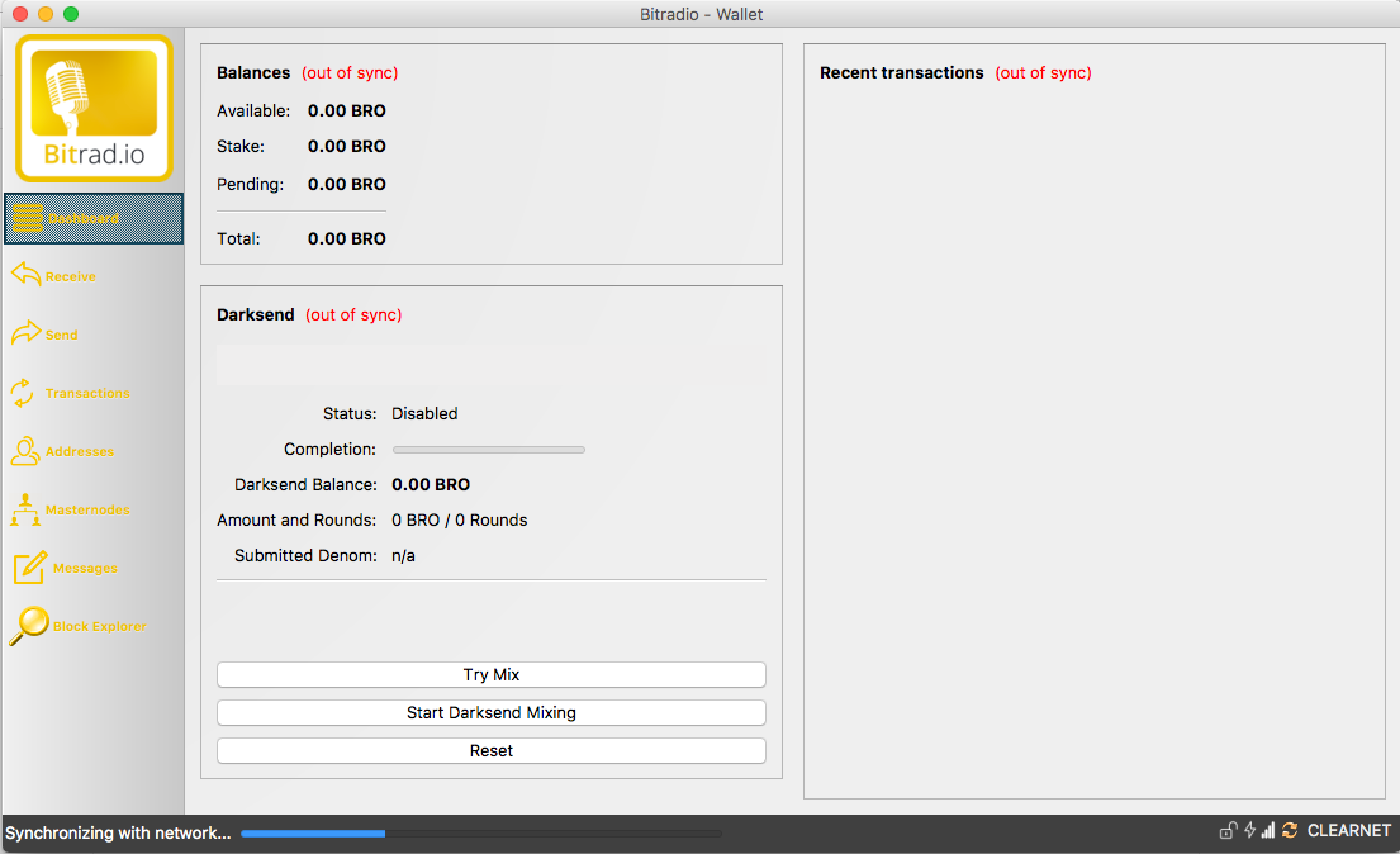 The cool part is that we all listen to music anyways, so why not get some coins out of it? You can even leave it on as you go to work, thereby always earning you something, completely free!
If you love listening to radio, then why not earn some cash in the process?
Did you buy any Bitrads yourself?
I did indeed. I have 3 active Masternodes and currently own approximately 7700 Bitrads.
Who is the team behind Bitrad?
Honestly, I do not know. Their bitcountalk announcement forum thread leaves no clue and nor does their website. This for me is a major drawback when considering investing into any coin usually, bit Bitrad is an exception to that rule for me – as the coin has a solid business concept supporting it – it has a purpose. But do remember, do not invest more than you can afford to lose – the lack of transparency is a major drawback for me, even if I do like their concept and coin price (which I do!)
Sign-up to Bitrad for free today from here: http://bitrad.io/?ref=28470
Sources